HOME
Business leader speaks on Summit outcomes in Bali
"A Business Sector contribution to the Fourth Session of the Preparatory Committee for the United Nations World Summit on Sustainable Development"
Speech by Reuel Khoza, Chairman, ESKOM, at the PrepCom IV – Bali, Indonesia – 29 May 2002.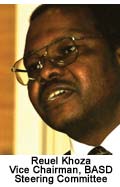 It is well recognised that we have a limited window of opportunity to move from concept to action in the achievement of sustainable development. We have acknowledged over the last few days that all sectors of society need to build partnerships based on sound principles, to realise our common goals. In this regard it is clear that there is no north versus south, but rather one common humanity, working to secure our economic, social and environmental future. We have further agreed that partnerships are an essential element of any output from the World Summit and as such a well defined framework for such partnerships is necessary. This framework needs to include the key elements of sound governance and adequate capacity to operationalise these priorities. At the same time we must remember that the concept of partnerships is as old as humanity itself, and we must learn from centuries of experience in making these new partnerships work. In this regard we already have excellent examples of large scale sustainability partnerships which are being implemented at a local level. The Sustainable Cities Initiatives is one such example which combines business, NGOs and national and local governments in the achievement of common objectives.
But even more important than these partnerships is the enabling environment to be created by the nations of the world. The opportunity is here is to build on the current package of conventions and protocols to realise the true implementation of sustainable development. In this regard Agenda 21 and all related sustainability policies, protocols and conventions need to be complemented with a clear WSSD type 1 outcome which defines global sustainability programmes. These programmes must include specific commitments, objectives, measures, timetables and implementation mechanisms. Comprehensive and binding type 1 outcomes need to define this environment and explicitly invite, support and maintain a working relationship with type 2 partnerships. Type 1 outcomes also need to include commitments to the creation of the enabling environment for such partnerships. In particular regulatory, governance, resource availability and utilisation, science and technology, participation and capacity building issues must be addressed. This requires a concerted and focused effort in defining the roles and responsibilities of all partners, with mutually accountable local implementation partners being viewed as essential to achieve sustainable implementation of programmes. Where such local implementation partners and/or the institutional capacity do not exist, then they need to be established through capacity building programmes. The same applies to the need to build on global scientific and technological capacity and create a new culture of innovation, which will enable quantum leaps in human endeavour.
It is clear that we need to build our future on the three pillars of sustainable development, drawing on a combination of partners across all sectors to pursue and demonstrate credible, measurable results with milestones and transparency. To have the greatest impact, it is desirable for projects to be scalable, replicable, transferable and inspirational, presenting practical examples to be adapted and emulated elsewhere.
The outcomes of the world summit themselves create the environment for self contained monitoring and compliance systems, with the enabling environment being created by the type 1 outputs and the partnerships monitoring efficacy, with each partner being mutually accountable for progress, delivery and compliance with statutory and regulatory requirements which include international conventions. In addition modern trends of reporting, especially the triple bottom line concept, lends itself to transparency and access to information. In particular, the current mechanisms of governance such as South Africa's King II, the global compact and the Global Reporting Initiative can be built on to enhance the transparency and openness of these processes. It is further proposed that this meeting consider tasking an appropriate body to collate and synthesise, at appropriate regular intervals, the reports produced by the individual partnerships.
We have heard over the last few days a lot about the New Partnership for Africa's Development or NEPAD. Whilst considerable debate and consultation is still required, I am convinced that NEPAD can be used as the basis for transforming the vision of sustainability to action. In this regard NEPAD is a unique partnership developed for Africa by many African nations and we look forward to seeing the WSSD give considerable impetus to this initiative.
The business sector sees itself as an essential implementation role player in the WSSD partnership initiatives. We commit ourselves to continuing to work with all stakeholders in developing this framework for rapid implementation of the outcomes of the World Summit – turning the path to the Summit into a roadmap for sustainable development into the